Previous Articles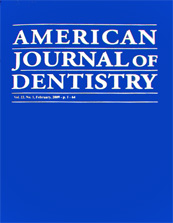 April 2009
Digital image color analysis compared to direct dental CIE colorimeter assessment under different ambient conditions.

M. Knösel, R. Attin, K. Jung, E. Brunner,
D. Kubein-Meesenburg & T. Attin
Color difference of all-ceramic materials by the change of illuminants.  

B. Yu & Y.K. Lee
Influence of CAM vs. CAD/CAM scanning methods and finish line of tooth preparation in the vertical misfit of zirconia bridge structures.

R. Castillo de Oyagüe, M.I. Sánchez-Jorge, A. Sánchez Turrión,
F. Monticelli, M. Toledano & R. Osorio
Laboratory evaluations of a bi-level, extremely tapered bristled toothbrush and a conventional uniform bristled toothbrush.

C.M. Barnes, D.A. Covey, X. Shi & S.L. Yankell
Sealant adaptation and penetration into occlusal fissures.

B. Kane, J. Karren, C. García-Godoy & F. García-Godoy
Effect of heat on the flow of commercial composites.

J. da Costa, R. McPharlin, T. Hilton & J. Ferracane
Light polymerization-dependent changes incolor and translucency of resin composites.

M. del Mar Pérez, A. Saleh, R. Pulgar & R.D. Paravina
Subjective and objective perceptions of specular gloss and surface roughness of esthetic resin composites before and after artificial aging.

N. Barucci-Pfister & T.N. Göhring 
Evaluation of different flowable materials for bonding brackets.

A. Vicente & L.A. Bravo
The in vitro effect of a collagenolytic enzyme inhibitor on lesion development in root dentin.

Y. Fukuda, S. Nakashima & T.Ujiie 
Influence of different luting concepts on long term retentive strength of zirconia crowns.
C-P. Ernst, E. Aksoy, E. Stender & B. Willershausen
...