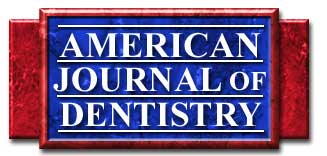 318 Indian Trace, Suite 500* Weston, FL 33326 * U.S.A.
Contents of October
and December 2005 Issues
October 2005
Capacity of coronal dentin to increase fiberglass post retention: A pull-out test.
C. D'Arcangelo, G.D. Prosperi, P. Passariello, S. Caputi & V.A. Malagnino
Evaluation of toothbrush and generalized wear of luting materials.
S. Suzuki & H. Minami
The influence of human plasma used for dentin perfusion on tensile bond strength of different light-curing materials.
C.R. Gernhardt, H-G. Schaller & A.M. Kielbassa
Dental effects of home bleaching gels and whitening strips on the surface hardness of resin composites.
A. Müjdeci & O. Gökay
Bond strength between machinable glass-ceramic and dual-cured resin luting cements using silane coupling agents.
K. Yoshida, M. Yamashita & M. Atsuta
Shear bond strength of a self-etching adhesive in primary and permanent dentition.
C. Germán Cecilia, C. García Ballesta, O. Cortés Lillo & L. Pérez Lajarín
Effect of simulated pulpal pressure on dentin bond strength of self-etching bonding systems.
K. Moll, H-J. Park & B. Haller
Environmental contamination before, during, and after dental treatment.
R.H.L. Motta, J.C. Ramacciato, F.C. Groppo, A.B.N.D. Pacheco & T.R. Mattos-Filho
Removal of oral biofilm by sonic phenomena.
W.G. Pitt
Effect of endodontic irrigants on microleakage of coronal restorations.
M. Türkün, F. Sevgican & B. Aran
Color difference of four esthetic restorative materials by the illuminant.
Y-K. Lee & J.M. Powers
Micro-shear bond strength of adhesive systems to cementum.
D. Kikushima, Y. Shimada, R.M. Foxton & J. Tagami
* Continuing Education Article - C.E. Questions are sent by separate mail to C.E. subscribers. Call (954) 888-9101 for information
December 2005
Restorative treatment of cervical lesions with resin composites: 4-year results.
M. Belluz, M. Pedrocca & M. Gagliani
Effect of cavity form on adhesion to cavity floor.
R. Kishikawa, A. Koiwa, H. Chikawa, E. Cho, N. Inai & J. Tagami
Durability of resin-dentin bonds related to water and oil storage.
M.R.O. Carrilho, R.M. Carvalho, F.R. Tay, C. Yiu & D.H. Pashley
Effect of adhesive volume on the bond strength of bonded complex amalgam restorations.
J.D. Overton & R.I Vance
Adhesion promoters: Effects on the bond strength of brackets.
A. Vicente, L.A. Bravo, M. Romero, A.J. Ortíz & M. Canteras
Tensile bond strengh of self-etching adhesive systems to primary dentin.
C.P. Torres, J.C. Ciccone, R.P. Ramos, S.A.M. Corona, R.G. Palma-Dibb & M.C. Borsatto
Micro-shear bond strength of five resin-based composites to dentin with five different dentin adhesives.
B-D. Roh & J-H. Chung
Effect of different mouthrinses on Knoop hardness of a restorative composite.
A.N. Cavalcanti, F.H.O. Mitsui, G.M.B. Ambrosano, P. Mathias & G.M. Marchi
Subgingival topical doxycycline versus mechanical debridement for supportive periodontal therapy: A single blind randomized controlled two-center study.
P. Eickholz, T-S. Kim, B. Schacher, P. Reitmeir, T. Bürklin & P. Ratka-Krüger
Evaluation of various root canal filling materials in primary molar pulpectomies: An in vivo study.
N. Özalp, I. Şaroğlu & H. Sönmez
Evaluation of laser fluorescence for differentiating caries dye-stainable versus caries dye-unstainable dentin in carious lesions.
D.W. Boston & J.E. Sauble
Evaluation of the elastic recovery of polyether impression materials.
T. Endo & W.J. Finger
Remineralization potential of an anticaries/antigingivitis mouthrinse.
D. Yu, T. Sipos, M-M. Wu & C. Naleway
* Continuing Education Article - C.E. Questions are sent by separate mail to C.E. subscribers. Call (954) 888-9101 for information .
&copy Copyright 2006
American Journal of Dentistry
All Rights Reserved